Your logo, just as much as — and maybe even more than — your company's name, represents who you are, what you do and how you do it. So you need to make sure your logo is the best it can be.
Your logo is quite often the first impression you'll make on a prospective customer. And you know what they say about first impressions. I can't remember — something about dandruff, but the gist is that they're important.
Obviously, you need a great logo. So what makes a logo great, and what ideas should you keep in mind as you find your great logo?
Look to the Big Guys
Maybe you're "just" a budding lawn care company or "only" a small company with a dozen employees. That doesn't mean your logo can't look like that of a Fortune 500 company. You want to look like an established, experienced lawn care company, or a small-business partner that offers the dependability of a larger company. Your logo can do a lot of that work for you.
Huge multi-national corporations often spend hundreds of thousands — even millions — of dollars on logo designs. Their logos are focus-grouped, market-tested and then imprinted on millions of items. They are spending a lot of time and money to make sure they do it right.
You should steal their ideas.
Maybe a nicer way of putting it is, look at the big companies' logos for inspiration.You'll see they follow a lot of the remaining tips below.
Keep it Simple
Think of your logo as an icon for your company. With today's technology, your logo will probably quite literally serve as an icon for your company in the form of an app icon. Even if that won't be true at first, your logo should have the same simplicity as an app icon. To be distinctive and recognizable, it doesn't need to be complex.

Look at the Facebook "f", the Twitter bird, or the other app icons on your phone that "pop" — the ones that are the easiest for your finger to find. Chances are they're the ones that keep it simple.
Decide on a Style
Does your name really say it all? If you think you have a great name, maybe your logo should just be the name, presented in an attractive and interesting way.

Or maybe let a symbol do the talking.

Of course, you know you've really made it when you don't even need to show your name. (Don't try this at home.)

Make it Modern
The big guys usually update their logos every once in a while. Some do it every few years, some once in a generation. And of course some never do it because they don't have to. The Nike swoosh works just as well today as it did when it was designed in 1971 — famously, for a fee of only $35. Pepsi, AT&T and McDonald's are just a few examples of companies whose logos have evolved over the years while remaining recognizable.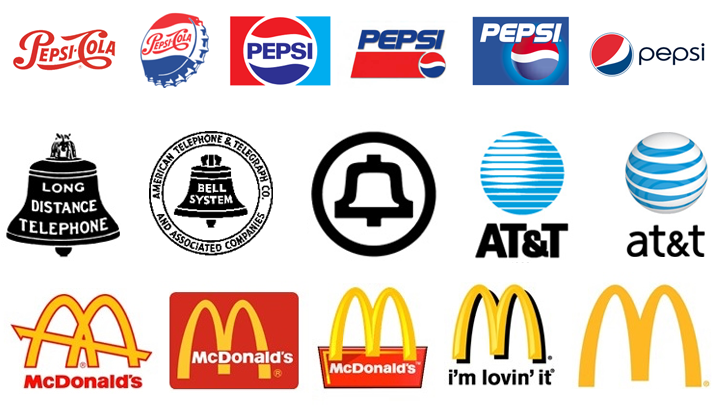 The takeaway here is: Make sure you start with something that fits with today's styles. Right now the "flat" look is in — no fancy 3D shading. Bright primary and secondary colors are also popular — stay away from dingy darks or washed-out pastels. You also want something crisp and clean. Leave the grunge where it belongs: in Seattle circa 1992.
Make it Memorable
Don't look at your competitors' logos to see what they're doing and copy it. Look at your competitors' logos to see what they're not doing. What opportunities are they missing? What would make you stand out from the crowd?
Make it Clever
Some of the best logos get people talking about them. A lot of logos have "hidden" features that, when discovered or pointed out, make the viewer not only remember that logo, but want to share it with others. Like, "Hey, did you ever notice that the Amazon smile/arrow points from 'a' to 'z', as in — they have it all from 'a' to 'z'?"

Use a Professional
Your nephew may have a great idea for your logo, and maybe he did get an "A" in art last semester — but before you release your logo into the wild, you need to pay a professional to at least look at it and clean up the rough edges. Don't worry about insulting your nephew. Buy him an ice cream cone and he'll understand.
Of course, a lot of the tips above are "easier said than done." And that's why you do need a professional with a lot of logo design experience. For a great designer, these ideas should be second nature. Use them as guidelines as you decide what you're looking for in your logo, but leave the execution to the pros.