If you're at all committed to producing great content, then you know you need an editorial calendar (also called a "content calendar"). But with the plethora of tools available today, how can you figure out the most efficient and effective system to keep your team on track?
You know that your content calendar needs to at least define the title, the author, and the publishing date. But a content calendar can, and should, do so much more. What part of your strategy is this blog post contributing to? Which keywords are you targeting? What is the workflow surrounding getting it written, approved, published, and promoted? If your content calendar doesn't take these strategic and tactical considerations into account, you may be in trouble.
If you want an online tool to help you manage content production, there are plenty available, with a wide range of pricing.
GatherContent is a relatively trimmed-down option that allows you to have a large number of users so all your writers, editors, bosses and freelancers can work in the same place.
CoSchedule has flexible task-based workflows built in and is good at integrating with your social media so you can promote your great content more effectively.
ContenTools is a newer player on the scene, but it's already shining at managing a huge group of brainstorming ideas and translating them into meaningful posts and articles.
At madison/miles, we stick with the tried and true Excel spreadsheet. With an unlimited number of columns, we can track whatever aspect of our blog posts we want to — for example, we have a section on keywords, including average monthly search volume, competition, and equivalent CPC (cost-per-click). We share the calendar on Google Drive so that everyone involved has the right level of access and can see whatever they need to. Many other firms work the same way, because you simply can't beat a spreadsheet's flexibility in allowing you to track whatever you need to.
Whatever tool you decide to use, here are the essential elements of a complete content calendar that will get your team in the same place, on track, and producing quality content.
Strategy

If you don't keep an eye on strategy, you'll quickly end up wasting time creating great content that doesn't connect with your target audience. Somewhere, you need to make sure that you're tracking which Buyer Persona each piece of content is aimed at, and what stage of the inbound buyer's journey they're in (awareness, consideration, decision, and so on).
Otherwise, your great piece on "How a Fixie Bicycle can Help You this Holiday Season" won't connect with your potential customers, and all the time you spent on it – writing, editing, posting, and promoting – won't do a thing to help you attract new visitors or convert them into leads.
In fact, all of your brainstorming should come from this place. It's really easy to get pumped up about a new idea for a blog post or white paper because the idea excites you. Unfortunately, you're not the target audience. I can't tell you how many times I've jotted down an idea that I think is great, and even outlined it, before realizing that it resonates with me but not with our potential customers. (And when that happens, I move the topic over to my personal blog, which exists for exactly that purpose.)
Keywords

Long-tail keyword search should be the backbone of your company's blog strategy and content creation. Your new store may not be able to get on the first page of Google results for "fixie bike" – at least, not right away – but you will be able to reach searchers who are looking for something more specific, like "best city tires for a fixie bike."
Using your content calendar to track the long-tail keywords you're targeting is great for another reason, too. If you sell turn-of-the century dollhouse kits, then the people who search for a highly specific phrase ("how to build a 1905 Edwardian dollhouse") are far more likely to be interested in your kits than people searching for the far more generic "dollhouse." Essentially, by focusing on long-tail keywords, the visitors to your site are pre-qualified for the specific products and services you offer, and the quality of your leads goes up.
And while there are a whole bunch of tools for doing really in-depth keyword analysis, this doesn't have to be rocket surgery, as a friend of mine would say. I came up with that long-tail keyword-based fixie bike blog post idea by using my friendly neighborhood Google search bar.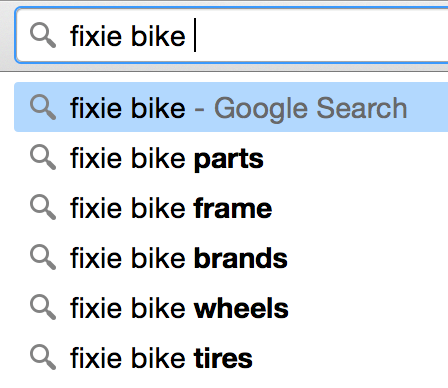 Not convinced? Then check out one of the stories in The New Rules of Marketing and PR, from digital marketing guru David Meerman Scott (which you really ought to read anyway if you're in the inbound marketing biz). Cervélo Cycles manufactures racing bicycle frames, and their co-founder, Gerard Vroomen, "excels at using the web to tell cycling enthusiasts compelling stories ... Because of the keyword-rich cycling content available on the site, Cervelo gets the same amount of search engine traffic as many sites for bike companies that are 10 times larger." The takeaway, says Scott, is that we need to create more "just-right content" aimed at smaller segments of the consumer base.
At madison/miles, we're pretty heavily invested in the power of keywords, so our editorial calendar goes into a lot of depth on this topic. We want to know the average monthly search volume for the keywords we're considering, as well as what they would cost in a CPC campaign and how they rank for competitiveness. This allows us to quickly see the value of our different proposed keywords based on a variety of metrics.

All this keyword tracking on the editorial calendar doesn't just let us know how that particular keyword phrase is likely to perform. By keeping all your blog post keywords in one place, you can easily see at a glance what kind of topics you're covering and where there might be some holes in the content strategy. If 90% of your keywords are aimed at one particular persona or one aspect of your business, it's a good sign that you need to give other topics some love, too. You want to ensure a balance of content across your main service categories.
Workflow

Who's in charge of publishing this particular blog post? Who will be responsible for promoting it on social media? If you don't instantly know the answer, you have a workflow problem.
Workflow goes far beyond just "I think Alex has the time to write this post this week." Like a team of runners on an Olympic relay team, having clearly defined roles and responsibilities means that no one's going to drop the baton. In other words, your great content won't sit languishing in limbo just because no one knew who was supposed to edit it and approve it for publication.
You'll probably need to track more than just one date, too. If the content has to be published next Monday, then when is the due date for the freelancer who wrote it to turn it in? When is the due date for someone in production to assign the topic to the freelancer? Who is sourcing the graphics?
We all want to create truly valuable content, blog posts and articles and ebooks that will really make the reader stop and think. Doing it right requires managing a whole host of moving pieces, and the editorial calendar is, we think, the best place to keep track of them.
Analytics

Pop quiz: How many views did your last blog post get?
Here's another: What was your most popular blog post in the last quarter?
You see where I'm going with this. We're always under so much pressure to create, create, create, it can be hard to take the time to stop and look back on what worked and what didn't.
If you treat your content calendar as a living document that reflects not only what you plan to write, but also how all of that writing performed, then you're doing better than 90% of all the companies engaging in inbound marketing (which means you'll stand out from the pack). Seeing which posts and articles outperformed their peers gives you the ultimate insight into what your potential customers are really looking for, and how to best reach them
Your content calendar should at least track how many views the new content got in the first 30 days. If you want to go deeper into tracking your effectiveness, go for it: You can track views over longer periods, how long readers stayed on the page, social shares on all your social platforms, and anything else you can think of.
Ultimately, your content calendar needs to be the tool or collection of tools that works best for you and your team. That may be a paid service, a comprehensive Excel spreadsheet like we use, or anything else you can dream up. The most important thing is that it needs to work: to keep you on track and keep your team producing great content that really resonates with your readers.