How often do you really use data to inform your online marketing decisions? Often we look at data in silos, forgetting, for instance, that our Google Analytics and our HubSpot Reports provide different — but closely related — insights.
By integrating HubSpot with DataHero, we gained new perspective on data for the Health and Wellness Alliance for Children's inbound marketing campaign. The result? Inbound marketing decisions driven by the synthesis of meaningful, contextualized data.
How the HubSpot Integration with DataHero Works
DataHero is a self-service business-intelligence platform that allows you to easily access data from cloud services. You can create a customized dashboard that includes data from a host of sources, including HubSpot, Google Analytics, Survey Monkey, EventBrite and Zendesk. Charts are easy to build, customize and update. Data can also be updated automatically.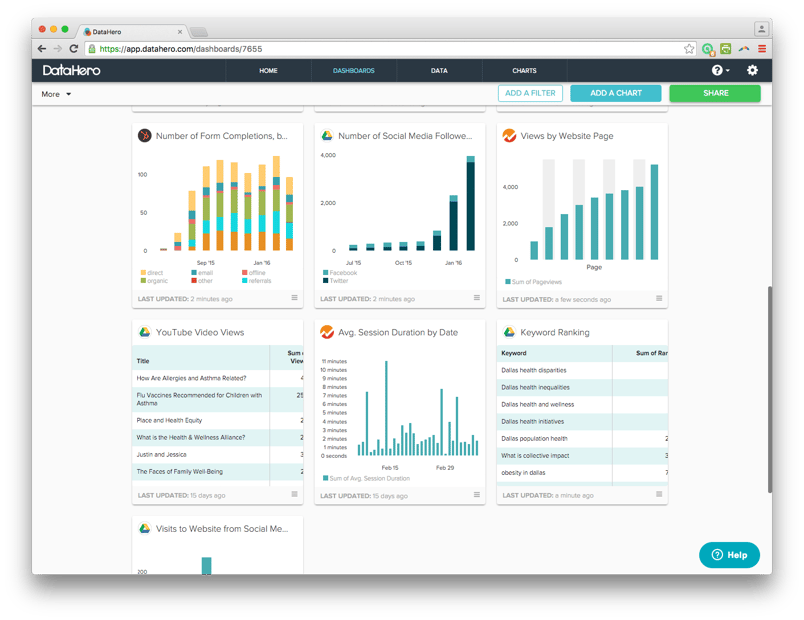 DataHero makes it easy to view data from a variety of sources, such as HubSpot, Google Analytics and even Google Sheets, into one clean, simple dashboard.
Using a simple interface, DataHero allows you to pull in a wealth of data from the HubSpot CRM, from simple stats like total number of contacts, to more complicated numbers like the time it takes your customers to move through the buying cycle. This lead-based data brings a new dimension to information about your web traffic, referral sources, and other more "traditional" analytics.
We recently integrated HubSpot with DataHero for the Health and Wellness Alliance for Children (the Alliance), gleaning new insights that contributed to a 471% increase in overall web traffic and a ninefold increase in contacts.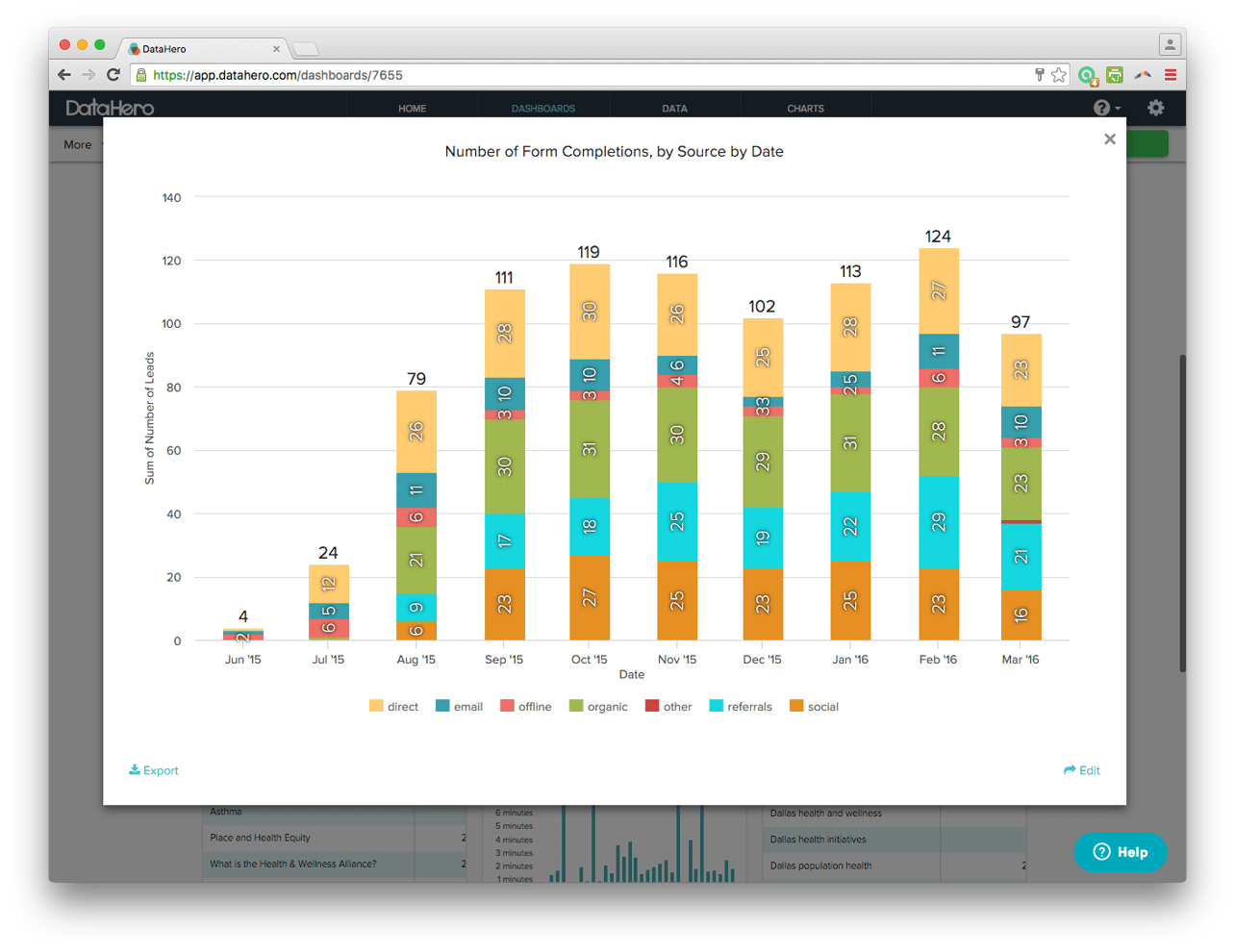 To see more detailed data, simply click on each chart in your DataHero dashboard. The Alliance's form submissions have increased dramatically since their inbound marketing launch.
About the Health and Wellness Alliance for Children
Based in Dallas, Texas, the Alliance is a non-profit organization focused on improving the health and well-being of children in North Texas. They are currently focused on two pressing regional health issues: asthma and obesity. Using a collective impact mindset, the Alliance works as a convening organization, bringing together entities from the public and private sectors to address these health issues, making it relatively unique in the non-profit world. While other non-profits' members are individuals, the Alliance's members are other organizations.
Three Benefits of Integrating HubSpot with DataHero
The Alliance's mission is a lofty one, and accordingly, our inbound marketing campaign had some heavy lifting to do. In addition to the usual boosts in web traffic and engagement, we also sought to leverage the Alliance's online presence to foster offline relationships with prospective new partners, and to strengthen relationships with existing partners.
Pairing these largely qualitative objectives with quantifiable metrics required some creativity, along with the ability to easily survey data from multiple sources. Integrating HubSpot with DataHero was the ideal solution, offering multiple benefits:
The ability to easily cross-reference data: Inbound marketing decisions often require multiple data points that don't always come from the same source. For example, developing and evaluating the performance of the Alliance's in-home asthma education landing page required keyword information from Google Analytics, along with form submission data from HubSpot. Continuously and consistently making data-driven improvements to landing pages has often doubled form submission rates.
Ease of trend identification across analytics: Individual metrics offer great insights, but observing trends (or lack thereof) across analytics can give important new perspective. The Alliance saw a spike in Twitter followers, for instance, that wasn't accompanied by the usual increase in web traffic from social. A quick peek into our data revealed that those new followers were from a new and unexpected audience segment: breastfeeding advocates. We promptly began incorporating content for this audience in our tweets and editorial calendar.
Increased accountability and transparency with the client: Much of what we do as inbound marketers happens behind the scenes; the Alliance staff certainly isn't monitoring every tweet we write or every landing page tweak. So having a dashboard where they can access their data anywhere, anytime gives them confidence that we're accountable for our work and on track to meet our marketing goals.
To learn more about how integrating HubSpot and DataHero could jumpstart your inbound marketing efforts, please contact us for a complimentary consultation.