The mail order catalogue perhaps represents the earliest form of content marketing. Following its debut in the United States more than 250 years ago, the catalogue remained largely unchanged through most of its history. The dawn of the Internet could have been the death knell for the catalogue, yet plenty of companies still embrace the form as a powerful marketing tool. Clearly now is no time to shy away from this profitable form of content marketing.
A Brief History of the Mail Order Catalogue
You may know Benjamin Franklin as a Founding Father, inventor and polymath, not to mention a tireless advocate for making the turkey our national bird. But you probably didn't know that in 1744, Franklin also wrote and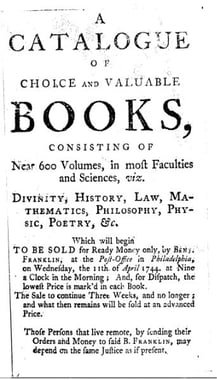 published what was likely the first mail order catalogue in the United States, A Catalogue of Choice and Valuable Books Consisting of Near 600 Volumes in most Faculties and Sciences. Hardly a page turner, and hardly something that would have broad appeal in a nation where, as in Great Britain, only about 54% of the population was even literate.
It proved too early for the mail order catalogue to catch on, and most of those published over the next century were intended only for a limited or local audience. Tiffany claims that its Big Blue Catalogue, published in 1845, was the first mail order catalogue for the general public, but how wide is the market for "exceedingly rare gems"?
Then on August 18, 1872, Aaron Montgomery Ward published the first Montgomery Ward mail order catalogue. The single sheet, which advertised a whopping 163 items, is considered the first mail order catalogue intended for the general public. By then, the literacy rate had drastically improved to about 80%, and Montgomery Ward started selling those advertised products at an unprecedented rate.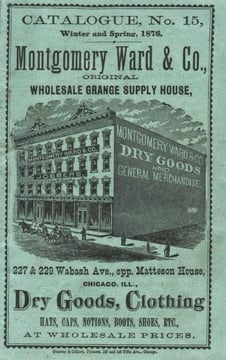 Ward soon realized he'd stumbled on a successful formula. By 1884, the catalogue had grown to 240 pages, and two decades later Montgomery Ward had about 3 million customers on its mailing list — one catalogue for about every 25 people in the United States. Ward would soon face competition from Richard Warren Sears and Alvah Curtis Roebuck. Sears Roebuck originally started as a mail order watch company and published its first catalogue in 1887. By 1893, the company sold all kinds of products. The popularity of Sears' Big Book, as the catalogue soon came to be nicknamed, surpassed that of Montgomery Ward's. However, both Sears and Montgomery Ward eventually opened retail stores, and their mail order catalogue business took the back seat.
By the 1980's and 1990's — the period when both department stores stopped issuing their iconic publications — mail order catalogues had become quite common. Consumers used them regularly, and they were a valuable asset to companies in virtually every consumer-facing industry. Mail order catalogue publication peaked in 2006 when, according to the Direct Marketing Association, approximately 20 billion catalogues were mailed. But from 2007 to 2014, catalogues took three big hits:
Postage increases in 2007 and 2014 made mailing catalogues more cost prohibitive.

The recession significantly impacted consumer spending, decreasing the ROI on printed catalogues.

The proliferation of e-commerce fundamentally changed consumers' shopping habits, rendering traditional catalogues obsolete.
Meanwhile, data have indicated a sharp downward trend in the effectiveness of direct mailers like postcards and brochures. Why then, as other forms of direct mail have languished, have marketers continued to invest in catalogues?
Printed Catalogues for Digital Consumers
Internet sales in 2014 exceeded $305 billion in the United States, according to the U.S. Census Department. Online-only businesses not only survive, but thrive in this digital-friendly economy. But each year 90 million Americans make purchases after receiving a catalogue, and the American Catalogue Mailers Association reports that buyers spend an average of $850 per year on catalogue-driven purchases, which is why so many companies still actively use catalogues as a prospecting tool.
But the catalogues you receive in the mail today probably bear little resemblance to those published by Benjamin Franklin and Montgomery Ward. In fact, they probably have little in common with the typical catalogue published only ten years ago. Thanks to the new retail landscape, marketers now view the purpose — and potential — of catalogues quite differently. Rather than seeing catalogues as direct sale tools, marketers see catalogues as an opportunity to deepen brand engagement and build affinity. They view catalogues as an offline extension of their content marketing strategy.
Here, a few content marketing lessons from the failures and successes of contemporary catalogues:
Lesson #1: Don't assume a captive audience.
Launched in 1989, SkyMall was one of the few catalogues to enjoy a truly captive audience. Its creator, originally envisioned that passengers would order via the airplane's telephones and receive their items when they arrived at the airport — an innovative concept that would foreshadow Amazon Prime Now. Distributed in the seat pockets of commercial airlines, SkyMall was often the only reading material or entertainment provided to bored passengers. However, over time, technology crept into the cabin, just as it did on the ground. The advent of iPads and ereaders cut into SkyMall's audience. And airlines increasingly offered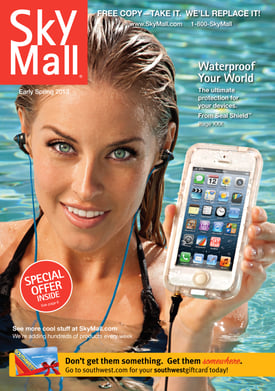 their own in-flight programming, either television shows or movies. Through it all, SkyMall maintained the traditional catalogue format.
That failure to evolve earned them a loss of $3.2 million in May through September of 2013. Now that the FAA has relaxed regulations on smartphone use and passengers increasingly have access to the internet during their flights, SkyMall faces even larger challenges. The company filed for bankruptcy earlier this year and is scrambling to implement a digital marketing plan that will allow them to compete with more established online retailers like Amazon. This failure to adapt is predicated on a failure to recognize that consumers always have an alternative to reading your catalogue...even when trapped on an airplane.
How could SkyMall adapt? One option would be to incorporate true blue content marketing, by incorporating longer articles that strategically position their products. These articles could be accessed through QR codes printed in the magazine, driving readers to the website where they could easily make a purchase.
Lesson #2: Appeal to the aspirations and inspirations of your audience.
When is a catalogue more than merely a catalogue? When it's Ethan Allen's Muses, their 324-page catalogue for interior designers and loyal customers. Muses has the look and feel of a coffee table book: printed on high-quality paper, the book features beautiful images and rarely mentions the Ethan Allen brand. Instead, Muses overflows with beautiful images of inspiring places, objects and textures, alongside finely decorated rooms styled with Ethan Allen furniture and accessories.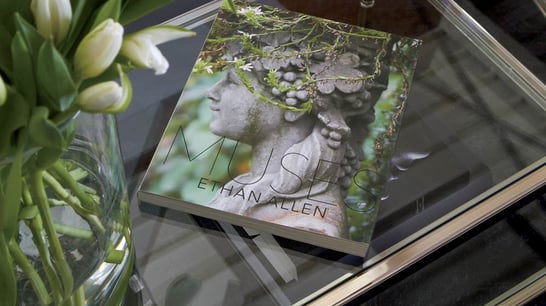 What you won't find in Muses are product descriptions or prices. The marketing team decided that information could live online, since that's where consumers would make their purchasing decisions anyway. Every ten pages or so, you'll find a prompt to visit the website to create your own Pinterest-style idea boards. As an example of visual long-form content marketing, Muses is exceptional. It gives its readers an aspirational aesthetic and makes inspiration a rich tactile experience.
While Ethan Allen's products certainly lend themselves to this format, you can adapt the concept for your own business. What kind of lifestyle are your buyer personas hoping to attain? How does your product fit into that vision? More importantly, Muses places Ethan Allen furniture in its ideal context, allowing the reader to easily envision stepping into setting and using the furniture. By placing your products in the context of how they'll be used, you enable your readers to identify with your product in a way that a traditional product image and description simply cannot deliver.
Lesson #3: Turn your product partners into subject area experts.
Darrah & Co, Ltd, lacks the big-brand recognition of SkyMall or Ethan Allen, but the manufacturer's rep company has thrived in large part through its offline content marketing. While Darrah & Co's manufacturers often publish their own consumer-facing catalogues, the company's core customers are wholesale buyers who sell retail themselves. That B2B focus meant that Darrah & Co needed a fresh approach to the traditional catalogue. Thus they opted to publish a magazine that strategically positions their clients' products in a way that a regular catalogue simply couldn't accomplish.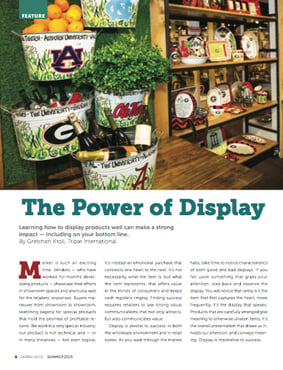 Instead of highlighting individual products, Darrah & Co. instead concentrates on delivering useful information. Articles address topics useful to retailers, such as tips for improving customer service or best practices for creating effective retail displays. Each article also features one of Darrah & Co's partners, who offers expert insight on the subject. Accompanying photographs often include that partner's products. This approach builds brand recognition among Darrah & Co's customers and partners, and it provides information that both audiences find useful and engaging.
Like Ethan Allen's Muses, the Darrah & Co. magazine illustrates the trend toward long-form content. It also illustrates the myriad ways you can strategically leverage your partners' and clients' expertise to create win-win content marketing. By encouraging these stakeholders to share their own stories and knowledge, you build trust and authority, two key attributes of effective B2B marketing.
Lesson #4: Don't be afraid to "move backwards."
Why would an ecommerce business make a seemingly backward leap into catalogue publication? Because it proves a remarkably effective marketing tool. Bonobos, an online retailer of high-end men's clothing, perhaps doesn't seem like the type of company that would produce a catalogue. Their target audience, 18-34 year olds, isn't known for perusing catalogues. Yet when the company started investing in expensive photo shoots, they wanted to leverage the investment in all possible ways. A catalogue was one more platform for their photographs.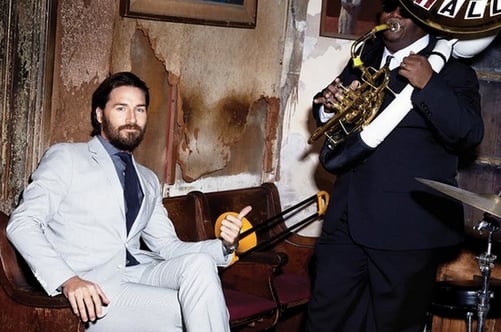 Since publishing a catalogue is expensive, Bonobos tested the concept by sending catalogues to a small number of potential and existing customers. They found that customers who received the catalogue spent about 1.5 times as much as customers who didn't receive it. Moreover, customers tended to buy whole outfits exactly as they were featured in the catalogue. The catalogue delivered significant, measurable ROI. An old-school technique worked for a new-economy business.
The moral? Even in our digital age, and even if your business currently resides entirely online, print may have a place in your content marketing strategy. As with any new marketing endeavor, you'll want to plan ahead. Think about your catalogue as you would any item you publish online. Consider how you'll measure the impact of your offline content marketing, and how you'll integrate it with your online content marketing.