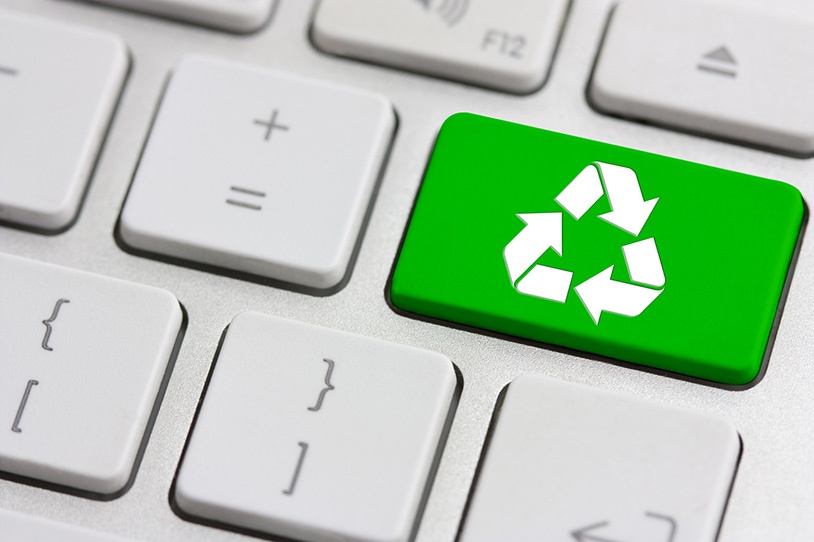 When's the last time you sat down to write a blog post...only to helplessly stare at your screen? We've all been there, paralyzed with writer's block. After all, it's tough to keep coming up with brilliant new ideas, week after week! But the best content marketers don't actually come up with new ideas each week. Instead, they frequently repurpose content — particularly the high-performing articles. Repurposing is an incredibly useful strategy to maximize the return on your investment in content marketing.
Roadblocks to Repurposing Content
Undefined audience: Whom are you actually creating content for? Maybe you have an idea of your target demographic, but unless you've thoroughly developed your buyer personas, your scope is probably still too broad. And that means that you're probably trying to produce content for a much wider variety of prospective buyers. Before you start writing, flesh out your buyer personas.
Trendy topics: You certainly want your content to be timely. But if you constantly base all your content around the latest news, your content quickly loses relevance. While you may enjoy a temporary spike in traffic from those trendy topics, you'll also have to stay on top of the news and create new content all the time. Focus on evergreen topics that will bring you steady traffic over time.
Lots of ideas: Having plenty of ideas should make content marketing easier, right? Only if you take the time to organize those ideas meaningfully. Without a thoughtful, cogent structure, your ideas might lead you all over the content marketing map ... without ever leading you to a useful destination. Build an editorial calendar that includes downloadable offers, blog posts, presentations and any other longer-form content you plan to incorporate.
Five Ways to Repurpose Content
The key to repurposing effectively is to adapt each piece of content for as many platforms and formats as possible. Use these five tried-and-true tactics to get yourself started repurposing content like a pro.
1. Harness the hashtag.
If you've recently participated in a hashtag campaign, take a look back at all the tweets containing the hashtag. Select the ones that sparked the most conversation, earned lots of favorites and retweets or simply amused you the most, and embed them in a blog post. This is a great approach if you're covering a multi-day conference or event via Twitter; you can quickly and easily offer daily recaps that include a few paragraphs of your own impressions, alongside wisdom from other attendees who tweeted about the event. You can use the same approach to cover a trending topic or event, or to capture the insights from a Twitter chat. For a sample, check out this post from Tavistock Books.
This tactic is an ideal way to gain some new visibility on Twitter, so be gracious. No one wants to see a long list of your tweets, so pull from a variety of sources. And when you share the blog post on Twitter, be sure to tag the individuals whose tweets you included; give credit where credit is due!
2. Bundle your blog articles.
Choose five to seven blog posts that address the same topic, and bundle them into an ebook. First, review the copy to ensure that it's evergreen. Then craft an introduction and conclusion, and add transitions as needed. Finally, hand all that great copy over to your designer for the finishing touches, like a cover, table of contents and About Us page. Now you have an ebook ready to offer for download.
To get the most out of your ebook, check your analytics. Which posts are the most popular among key buyer personas? What do these posts have in common? You'll likely find that some topics really scratch an itch with your best customers. As you move forward with your content marketing strategy, you can actually plan your blog topics with an eye for bundling them into ebooks later.
3. Adapt your blog posts for video or podcast.
Videos consistently prove themselves excellent conversion tools, so they're great to incorporate not only on your blog, but also on landing pages. With a few tweaks, the content of your blog posts can easily be adapted to use in business casual videos, which you can shoot yourself with the right basic equipment. Choose a post that performs well, and rework the copy to sound more natural and conversational. Be sure to upload the video to your YouTube station and retroactively embed it in any relevant blog posts.
Not sure your face is ready for the big screen? Try your hand at a podcast first. While a podcast doesn't have the same conversion power as video, it does add another dimension to your content marketing. And you can also put your podcast on iTunes, which gives you another potential venue for clients to discover you.
4. Pull together infographics for a SlideShare presentation.
You spend plenty of time reviewing industry research, and other members of your team undoubtedly dive into your company's own data. These numbers probably show up as infographics in your blog posts. Identify ten to fifteen infographics that relate to the same topic, and put them into a SlideShare presentation. Each presentation can be used as a standalone, or you can embed them into blog posts for even more visual punch. Use the statistics and data points from each infographic as teasers on Facebook, Twitter and LinkedIn.
5. Turn your internal data and success stories into case studies.
Your company is already collecting all kinds of qualitative and quantitative data. You probably have a treasure trove of data just waiting to be mined, while your sales team can probably share lots of success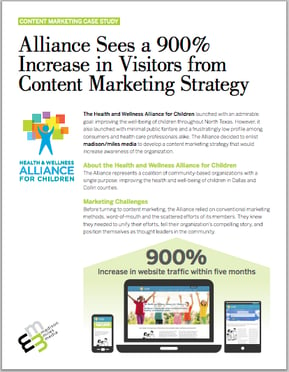 stories from loyal customers. Audit your data and build a case study around the most impressive results.
Once you've finished the case study, use it as the foundation for a series of blog posts. You can also use the statistics to make infographics, or adapt the case study for a SlideShare presentation. But don't stop online; you could also print your case study for your sales team to leave with prospects.