Journalism, like many industries, is in a state of flux, to put it mildly.
Newspapers across the nation — really, the companies that own them — are losing money faster than you can say "on the record." Meanwhile, publishers, editors and managers within those newsrooms are enmeshed in a constant struggle that values profit — above all else — as the "lede."
How else can you explain the paltry numbers that now constitute editorial employees at newspapers, coast to coast? From layoffs to buyouts, even at the most vaunted papers of record, for print journalism, the "Times," they are a'changin.

That's why many mid-career journalists are increasingly making the transition to a realm that is more than tangentially related to what they've been doing during their professional lives: They are becoming content marketers.
Journalists are inherently storytellers. And in marketing, where a business is only as good as its (back)story, it makes sense to have on hand employees that know how to write — it's a natural fit, and one that benefits any content marketing firm a thousand times over.
Here are five reasons why:
1. Journalists are natural observers.
Experienced journalists come equipped with a keen eye for detail. Their previous careers may have seen them covering everything from the pedestrian — like a city hall meeting — to the extraordinary: scandals among officials, elections run amok or sports teams winning national championships.
With these experiences under their belts, former journalists can build on what they've accomplished, while bringing a vast talent for observation. This extends to how they approach marketing. Journalists are intrinsically good listeners, and seek to observe first, then ask questions second, all of which is helpful for client-facing content marketers.
2. Journalists are simply good writers and editors.
Former journalists will never lose their career calling cards. They are, by nature, strong writers and editors. While this attribute is commonplace in newsroom settings, the skill can be hard to come by in the business world. That's why a former journalist can make a strong content marketer.

Whether it's writing white papers, blogs or marketing maps, know that a former journalist will present the material in a concise, easy-to-follow manner. Add the fact that former journalists are also steely-eyed copy editors, and a content marketing firm will revel in the fact that frequent typos, misspelled words or other grammatical mistakes will become a thing of the past.
3. Journalists are good at wearing 'expert' hats.
In newsrooms past and present, writers and editors are routinely called upon to be the experts in their respective fields. That might mean a transportation reporter will know all the ins and outs of highway construction, or that a baseball writer will know what every archaic-sounding acronym stands for on a stat sheet. Being an expert comes with the territory for a journalist.
In a content marketer role, a former journalist will frequently be called upon to wear an "expert" hat. When representing a diverse roster of clients, employees in marketing arenas are expected to know the minutia of an array of industries and organizations.
Otherwise, how will they excel at representing their clients' best interests? You can count on a former journalist to bring his or her deep-working knowledge about virtually anything to the marketing table. And if they don't know the answer, writers and editors make the best researchers.
4. Journalists have excellent interviewing skills.
Interviews come with the territory in journalism. From the first few classes in college, journalists are taught about asking the right questions (open-ended vs. closed-ended), recording the information properly and following up on interviews with appropriate research.
As a journalist, whether you're interviewing a confident professional athlete or a shy young student who recently won several scholarships, it's important to get as much meaningful information as you can for the story. This works well in content marketing, where marketers must often interview subject matter experts (SMEs) to get details on industry-specific information. The result? Content that is not only well-written, but insightful to readers because it came from an expert.
5. Journalists know how to meet a deadline.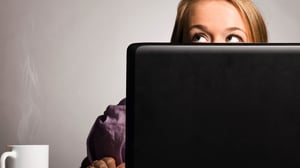 In the busy world of content marketing, projects come and go — and they do so on strategic timelines. Who best to work in that manner than a former journalist?
Journalists are geared toward writing on deadlines — it's part and parcel for the industry, where morning and (back in the day) evening newspapers operated on a virtual tightrope, making sure stories would make it to print. Fast-forward to the current collective journalistic mindset, where it's all about digital, and the process has changed — but deadlines are still integral to the process.
The notion of deadlines plays a key role in content marketing, too, with projects and content due to clients in both long-term and short-term timeframes. Former journalists operate with essentially an internal clock.
No one knows the imperative of running up against a deadline, and no employee may be better at meeting deadlines consistently, and like clockwork.
The Marketer-Journalist Difference
A recent report called "Key Elements of Building A Content Strategy," by Omar Akhtar and Mat Zucker, sought to examine what it takes to succeed in the world of content strategy and marketing. In their research, the duo interviewed a colleague named Dusty DiMercurio from Autodesk, a software company. DiMercurio perhaps best summed up the notion of how former journalists can influence content marketing.
"It's easier to train a journalist to think like a marketer than it is to train a marketer to think like a journalist," DiMercurio said.
All of which to say, journalists looking to make the leap from the increasingly barren print landscape should have no fear. They'll be in good hands in newfound marketing roles, and it is likely their skills will be even more appreciated.
Clients will also benefit knowing their marketing team has the attention to detail, writing/editing ability, expertise and deadline-driven demeanor of former journalists working their account.