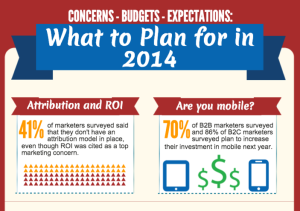 It doesn't feel like an entire year has passed since 2012, but it's already time to start your 2014 marketing plan. According to this infographic by Ciceron, there are a few key things that marketers are looking at when planning for the year ahead.
Increase in mobile spending. Eighty-six percent of B2C and 70 percent of B2B marketers plan to spend more in mobile in 2014.
Engagement over reputation. When it comes to social media, brands are more concerned with keeping their audience engaged than worrying about possible damage to their reputation.
Content is king. What do marketers plan to spend more on next year? Sixty-four percent of those surveyed said they plan to increase investments in content marketing.
Overall, it looks like 2014 will be a big year for digital and content marketing. Is your brand ready to compete?