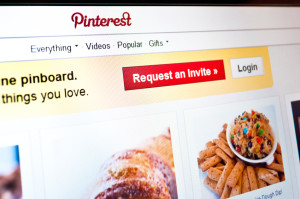 What's an ideal Pinterest image, one that will attract attention, likes, re-pins and comments? Paula Deen (or her people, at least) knows the secret. According to Curalate, a marketing and analytics suite that focuses on Pinterest and Instagram, Deen's photo of Aunt Peggy's Cucumber, Tomato, and Onion Salad is about as good as it gets.
What makes the image — a pink and white bowl filled with green cucumbers, red tomatoes and onions, sitting on a pink and white doily on top of grayish wood planks, with green-handled forks nearby — so special? Curalate shared with Wired what they've found in their research of images over the past year. That includes:
People aren't so popular. You might think human faces would make an image more relatable, but that doesn't hold true on Pinterest — those sans anyone's visage are 23 percent more likely to be repinned. As Curalate CEO Apu Gupta told Wired: "We think of Facebook as a network of people, and Foursquare as a network of places. Pinterest is a network of things … and it seems like on a network of things, faces are actually a distraction."
Color rules. The more multiple dominant colors, the better. Red and orange do twice as well as blue.
Straight up, please. Photos with a vertical orientation with an aspect ratio between 2:3 and 4:5 are the best, as they fit into the ideal parameters on Pinterest (fall outside of this, and the photo could get distorted).
Curalate also cites the minimal background and moderate light and color as marks in the image's favor.
We're gonna go out on a limb and say that Paula Deen's strong fan base was another big contributing factor to the 307,000 repins, 8,000 likes and 300 comments. Still, any business can learn from these tips on what Pinterest users find pleasing to the eye.