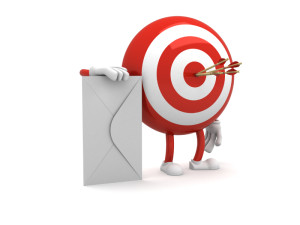 You know you've got great content packed into the emails you write, but if someone sends an email out in a forest and no one's around to read it, does it make an impact? You could have the cure for cancer, a 100-percent-off-sale notice, and the answer to global warming all in one message, but you have to keep the recipients from hitting that delete button when they see the subject line — so writing "Read this now!!!" isn't going to cut it. (Exclamation marks never cut it, by the way.)
What will? Email marketing service MailChimp analyzed more than 200 million emails to come up with a few best practices that can help you write the kind of subject lines that will get you read so your brilliance can be adequately appreciated. Here are five tips for writing can-miss email subject lines:
1. Don't say "help," "percent off," or "reminder."
These were associated with low open rates. Also be sure to avoid any words that might trigger spam filters, which your newsletter service should screen for.
2. Keep it to 50 characters or less.
Some campaigns do well with longer subject lines, but these typically go to very specialized audiences and are the exception to the rule. Practice brevity with your subject line and do the expanding inside the email.
3. Don't be too repetitive.
Repeating the same subject line over and over is a guaranteed way to subsequently lower your open rates.
4. Try localizing things, if applicable.
Adding the name of a city, for example, improves open rates. (Along the same lines, adding the name of a person doesn't help.)
5. Summarize what's contained in the email.
This is last but not least. Appropriately set expectations and accurately tell people what they're in store for when they open your email. That will keep them happy and more willing to read your next message.
If you simply don't have time for email marketing, you can always hire an email marketing agency to help you out! Most provide not only the regular email campaigns, but also special email blasts for promotions and new products or services. Just communicate to them your promotion schedule and preferences for assets, and they will take care of the rest.