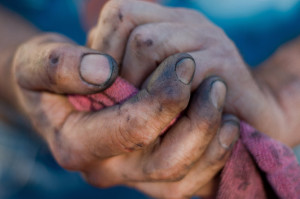 When you're a small business, the urge to do everything in-house is a big one — after all, why pay someone else to do something that you can do yourself?
Interestingly, 67 percent of larger B2C companies (defined as greater than 1,000 employees) outsource content, while just 27 percent of smaller companies (those with fewer than 10 employees) do the same, according to the B2C Content Marketing: 2013 Benchmarks, Budgets, and Trends survey from MarketingProfs and the Content Marketing Institute.
Even though large companies presumably have more resources in-house, they're sending their content needs elsewhere. Why? If someone else can do something cheaper, faster and better, it just might be worth it for you to outsource content marketing. Let's look at how this works:
1. It can be cheaper.
Let's say you own an art gallery, and your talent is having an eye for design. Sure, you can keep the books, answer the phones, sweep the floors, design a passable website, and send out a newsletter, but your true talent — the one that makes you money — is in curating the kind of works people want to buy.
At some point, if you're spending too much of your time scrubbing the windows, you're taking away from the income you could be earning by scouting new pieces of art or crafting one of your own. The same goes for creating content. It actually costs you less to hire someone to do these tasks that aren't in your wheelhouse.
2. It can be faster.
Content marketing is one of the most effective ways to grow your business, but it's incredibly time-consuming — and more so the less experience you have. Many people start out enthusiastically creating content and then realize that it's draining to continue to produce new ideas or ways of sending the same message.
3. It can be better.
Continuing with the art gallery owner example, producing art on your own may come naturally to you, but blog posts or newsletters or magazine articles may not. Surround yourself with specialists. They know what's compelling, and — working in conjunction with you — are equipped to reach your target market effectively. Companies that make a living at this also know what metrics to put in place to track the success of your marketing efforts.
Also consider that it doesn't have to be an all-or-nothing proposition. Combining in-house resources with the fresh perspective of an outsider who's an expert in creating content makes for a picture-perfect strategy.