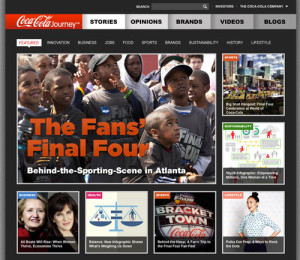 Company websites as we know them may be getting a whole new look — if they follow the lead of Coca-Cola, that is.
As part of their charge into content marketing, Coca-ColaCompany.com will now be an online magazine known as Coca-Cola Journey instead of a typical static business site. With that will come stories on everything from health and entertainment to food and business. Some of the current top stories include a history of how A Charlie Brown Christmas got on the air, a recipe for Coca-Cola Chocolate Cake and a look at water sustainability.
"We are acting as newshounds in the organization," Ashley Brown, director for digital communications and social media at the Coca-Cola Company, told The New York Times of his team. "It's very much like at a newspaper or a magazine."
The online magazine isn't shying away from controversy, either. They invited Adam Kleinberg, CEO at interactive agency Traction, to critique their new efforts right on the site itself.
"Coca-Cola's fundamental strategy is sound: I had zero reason to visit Coke's corporate site yesterday," Kleinberg writes. "Today, I might go there because a story pops up in Google or my Facebook feed. I might even just go there to see what's new."
However, he adds, the technique used is more heavy-handed than other companies that have done this successfully, such as American Express with AmEx OPEN Forum, a site for small-business owners, or Red Bull, whose Red Bull Media House creates products across print, online, TV and mobile platforms to reach their demographic of adventure-minded young men.
"Coke wants this to be a place where people indulge curiosity and engage in discussion," Kleinberg continues. "But, is that the relevant value people want from Coke?"
Time will tell, but Coca-Cola is pouring many millions of dollars into this effort — if they can keep the content engaging and useful for their target audience, we say that's a solid investment.