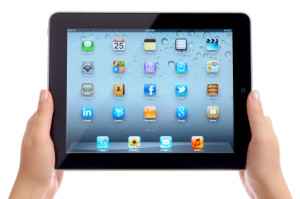 It wouldn't be a day ending in a "y" if there weren't some new technology release, but this is one worth paying attention to: Apple has announced that on Monday, Feb. 5, it will release a 128GB version of its fourth-generation iPad. This expanded memory — double the storage capacity of the previous 64GB model — will make it even easier for companies to transition business tasks from desktop and laptop PCs over to tablets.
That fact is surely not lost on Apple, which acknowledges the myriad business uses for the iPad — from training videos and service manuals to film edits and music tracks — in a press release announcing the new product. The company says that virtually all the Fortune 500 and more than 85% of the Global 500 are currently deploying or testing the iPad.
Meanwhile, individual consumers continue purchasing tablets at a torrid pace. Already, 22% of Americans own a tablet, according to a study released in October from the Pew Research Center's Project for Excellence in Journalism in collaboration with The Economist Group, and that number only looks to rise as tablets become all the more powerful and robust in their offerings.
What does all this mean to your organization? Put simply, it's increasingly important to deliver your company's content on this platform, whether it's in the form of a mobile-friendly (i.e., "responsive") website or apps built specifically for tablets.
"With twice the storage capacity and an unparalleled selection of over 300,000 native iPad apps, enterprises, educators and artists have even more reasons to use iPad for all their business and personal needs," said Philip Schiller, Apple's senior vice president of Worldwide Marketing, in the press release.
The 128GB iPad will sell for $799 for the Wi-Fi model, and for $929 for the Wi-Fi + cellular model.